| | | |
| --- | --- | --- |
| | | |
| | | |
| | | |
NTA Life


Protecting the Heart of Our Community

TPFFA members can now take advantage of the great benefits offered by NTA Life at very affordable rates.

NTA Life is a respected leader in the insurance industry, and provides supplemental health benefits to union and association members. The products offered by NTA Life are among the finest available, and backed with outstanding professional service and support. Knowing this, several state and local teacher and fire organizations nationwide offer NTA Life products.

To learn more about NTA Life products offered to TPFFA members please visit the website, (www.ntalife.com) or contact NTA Life to speak with a representative at (888) 671-6771.
On Jan 13, 2014 09:13 am
In case of mass shootings or bombings, firefighters and emergency crews across the country are being trained to not wait for an "all-clear" signal before rushing in to help.
Instead they're supposed to go in after the first-responders and to be accompanied by law enforcement as they treat and remove the wounded, even if the shooter or shooters haven't been caught or killed yet.
It's a departure from typical practice, which requires fire and emergency medical crews to wait at a safe distance until police have the gunman. Those minutes of waiting could mean a wounded person's life.
Recently the Federal Emergency Management Agency recommended in a national report that firefighters and emergency medical technicians go in with law enforcement in active shooter situations. FEMA also say they should wear clothing designed to protect them from bullets, such as bullet-resistant vests, shields or helmets.
First Coast officials say that's probably a good idea and confirmed they're talking about the issue. But they're reluctant to take the steps of ordering bulletproof vests without more research, discussion, training and funding.
They said there are many questions about how to make it safer for emergency crews, but bulletproof vests or shields for each firefighter may be too costly.
"Every first responder in the country carrying his own ballistic protections seems to be a tall order," said Chief Lorin Mock of Clay County Fire Rescue.
Clay has four emergency responders who are trained to go into danger zones with its SWAT team, he said. They have protective clothing and gear and help wounded victims and officers.
Mock likened it to emergency field medicine during the Vietnam War, where medics wore the same ballistic gear as other soldiers and practiced battlefield medicine, under often unsafe conditions, but saved lives.
He said he'd like to expand the training and protective clothing to more of his 180 firefighters and emergency crews, but the county can't afford it and he's unaware of any federal or state grant programs to pay for it.
"If we were able to get grants to provide them with bulletproof vests, we would take them," Mock said.
Clay's emergency responders are discussing other ways to coordinate with law officers to improve their responses to possible mass shootings.
"While I'm not prepared to buy body armor for all of our fire and emergency services personnel, I think making prudent changes to our operational plans, allowing us to pull victims away to safety, makes total sense," he said.
THERE ARE UNKNOWNS
Tom Francis, spokesman for the Jacksonville Fire and Rescue Department, said the matter is part of ongoing discussions about mass emergencies involving the department leaders, firefighter committees and other law enforcement agencies. He expects "focused conversation" about it in upcoming weeks.
Some of the unknowns are what bullet-resistant gear would be appropriate, how much it would cost and how to train firefighters to use it, he said.
"This is a cost the taxpayer would have to bear," he said.
Bulk purchase prices are hard to predict, but some estimates are from several hundred dollars to $1,200 for one firefighter.
Nevertheless, firefighters and emergency medical technicians would likely welcome bulletproof protection, said Randy Wyse, president of the Jacksonville Association of Firefighters, which represents 1,200 people.
"We run into situations where you have no idea that there's a dangerous situation," he said. "The call comes in, 'Man down,' and you go check it out. All of a sudden there's a person standing there with a gun, or knives are pulled or a fight breaks out. Those kinds of things happen daily."
The Christmas night melee at the River City Marketplace movie theater might have been a place to have a bulletproof vest, he said.
Wyse has some real-world experience. Years ago — he didn't remember when — his crew responded to a shooting four blocks from his fire station. They arrived before police to find a man on the ground with bullet holes and a man standing nearby with a gun.
The crew split up, with some of them driving the wounded man to the hospital. Wyse and another firefighter stayed there with the shooter, who was holding the gun but not pointing it at anyone or responding.
Wyse and the other firefighter took cover behind a fire truck but kept an eye on the man. When police approached, the man tossed the gun and gave himself up.
"That's the kind of situation I'm talking about as the unknown," Wyse said. "That's why we like for law enforcement to go in first and secure a scene before we come in."
But some of the mass shootings show the disadvantages of waiting.
DEADLY EXAMPLES
In the 1999 Columbine school massacre in Colorado, two gunmen shot 100 rounds, killing 13 people. Medical crews waited nearby as a teacher bled to death, according to FireFighterCloseCalls.com, a firefighter safety website.
More recently, a gunman last month shot at Transportation Security Administration personnel in Los Angeles International Airport's security area and killed an officer. The fire department followed old protocols, and paramedics reached the terminal but waited until they were told the shooter was under control. Some wondered later if the paramedics could have saved the officer by getting to him faster.
LA firefighters now are training under new directives for those situations. Shielded by armed officers, medical responders will wear body armor and helmets and go into parts of the danger zone to stabilize the wounded so they can be moved, according to news reports.
In Orange County, Calif., where a gunman in October 2011 shot into a hair salon, killing eight, nearly 1,000 fire personnel have been trained to don ballistic vests and enter so-called "warm zones" under protection of law enforcement officers to save wounded victims.
Since Columbine, more than 250 people have been killed in active shooter or mass-casualty incidents in the United States, including shootings at a Colorado movie theater and at Sandy Hook Elementary in Newtown, Conn.
From The Florida Times-Union
The post FEMA Recommends Bulletproof Vests For Firefighters, Medical Technicians appeared first on Labor Relations Information System.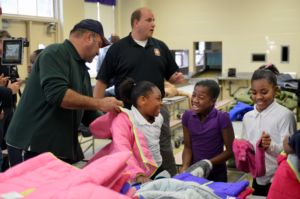 On Monday, December 2nd, the Memphis Fire Fighters Association Foundation gave the gift of warmth when it outfitted every child at Dunbar Elementary School in Orange Mound with a brand new coat. There were nearly 380 students at Dunbar who received these coats as a part of our Firefighters Coats for Kids program, in conjunction with Operation Warm. This is the second year that Memphis Fire Fighters have reached out with warmth to the smallest citizens we protect.
"Memphis ranks fifth in the nation for highest childhood poverty rate," says Memphis Fire Fighters Association President Thomas Malone. "Nearly 71,000 children live in poverty right here in Memphis," adds Malone.
In addition to providing coats for children who need them the most, our venture with Operation Warm has saved nearly 200 manufacturing jobs in Florida by our commitment to provide American made coats. Goodwill Industries was set to layoff nearly 200 people due to declining military contracts, but thanks to Operation Warm and Firefighters Coats for Kids, those jobs were saved when Goodwill started making coats for the venture, resulting in the production of 30,000 coats for firefighters across the country.
"Our goal is to put a coat on every elementary school child in Memphis. It will take time, but we will get it done. When we are not running emergencies, our men and women are working to give back to the community," says Malone.
By providing these coats to children in need, they have the ability to attend school when it's cold and it raises their self-esteem when it matters the most. Keeping a child in school is essential and providing them with a new coats will help with this.
Firefighters will also outfit coats on children at Jeter Elementary in the coming weeks.
To help the Memphis Fire Fighters Foundation provide coats for children in need, text "WARM" to 50555. Your money stays local and your donation is added right to your cell phone bill. It's safe and secure.
To the fearless Firefighters, members and friends of Tennessee Professional Fire Fighters Association,
Following the loss of 19 members of our Hotshot team here in Prescott, Arizona, I was amazed by the outpouring of support from Tennessee and across the country. The song, "Change in the Wind," was written as a tribute to the Granite Mountain Hotshots; however it occurred to all of us – the artists, musicians and technicians that contributed to the project – that the finished piece should be dedicated to ALL firefighters…and so it is. The honor bestowed upon the Granite Mountain Hotshots is one of which all in the firefighting profession are deserving, and it should not take a tragic event such as the Yarnell Hill Fire to bring that fact to light. Therefore I hope you will accept this tribute and its dedication as a small and far-from-adequate token of appreciation. Please share it with the members of your organization, your friends and supporters. The video's final credit reads: "to Firefighters, one and all….." and that is truly meant.
Ered Matthew, Prescott, Arizona